Bruce has worked with several types of media but has found that using a No. 2 graphite pencil is most representative of his personal character and style. The pencil allows for ease of use and gives the drawing an old-fashioned appearance. Many of Bruce's drawings can take up to 180 hours to complete and all are exclusively done by mouth.
By using naturalistic scenes, Bruce feels that the finished composition is a reflection of his mood and adaptability to life.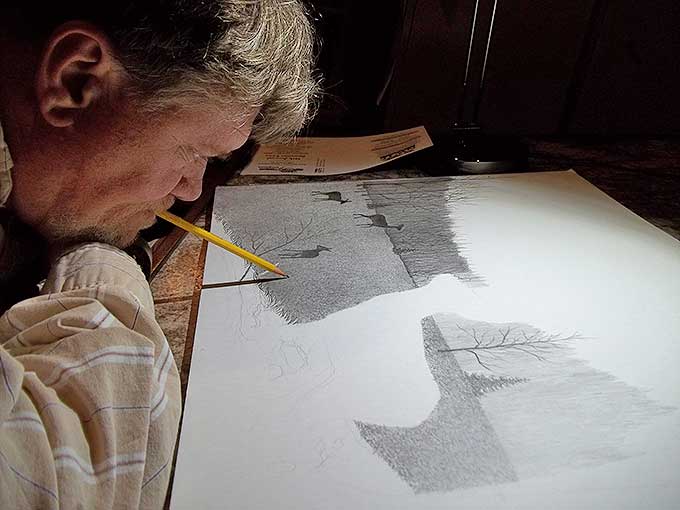 Bruce is the official artist of the local Virginia Wheelin' Sportsmen Chapter of the National Wild Turkey Federation (NWTF).  He has won several awards for his art, including the Art-to-Art Palette Award in Ohio, and has won two "Best in Print" awards from the Printing Industry of Virginia.  He has also been featured in numerous magazines, newspapers, and television programs for his amazing  talent.

Kate Eglan-Garton from the Art-to-Art Palette Journal (Dec. 2011 issue) writes, "Dellinger has never used his unusual method of painting as a sensation but has let his work stand on its own merit.  The refusal to be weak and unyielding in his passion of natural beauty is finally paying off.  Follow this emerging artist closely as he begins to make headlines."

Bruce Lynn Dellinger, a self-taught mouth artist, has been successfully drawing for well over twenty years. As a result of a farming accident in 1981 that left him a C5-C6 quadriplegic, he discovered that he could draw by holding a pencil firmly between his teeth.  This eventually led Bruce to the realization that creating works of art can be enjoyable and therapeutic.